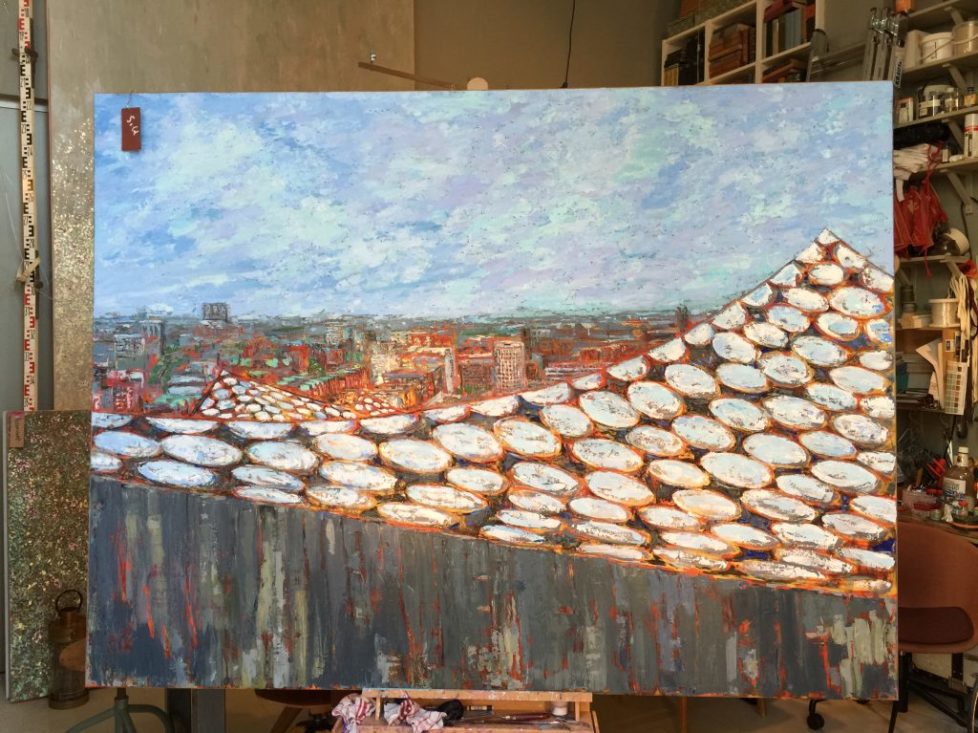 How long does it take to create a Sakura painting?
Around two months, independent from the size. It needs a lot of layers starting from the inidividual built frame, grounding, gold leaves and a lot of work with a small spatula adding layer by layer for the blossoms.
How much will a painting costs?
My paintings are calculated with a special recommended formula: Adding one length and one width in meters, multiplied with a factor dependend from the complexity of the painting. This factor is 2.000 Euro for the Sakura paintings, for less complex paintings it is actual 1.200 Euro. Following this, for example a Sakura painting in the size of 2,00 x 1,50 meters will cost around 7.000 Euro, a painting of the same size and less complexity around 4.200 Euro.
Is there a minimum size for orders?
Yes, especially the paintings of the Sakura series needs room for creating a good composition. The addition of the sides should receive three meters.
Is there a maximum size for paintings?
Yes and No, yes because of the natural limitation of the canvas, most of the available is maximum 2,10 meters broad, without special work and sewing it is not possible to use broader, and of course the size of my studion is limiting the size of the paintings. But: For example my largest painting in work today is 4,00 x 1,70 meter and a bit more seems to be possible-
Where do you deliver your paintings?
You can see my paintings in locations all around the world. The transport was organized by myself, with a little help from my favourite forwarder. So, shipping world wide is possible and already practised. For deliveries near to my home I will come myself – if wished – and assist in finding the perfect location for my painting.
How are the payment terms for orders and paintings?
For orders the agreed price will be divided into three parts. One third is required to confirm the order, one third in advance prior to the delivery and one third after delivery.
Which materials do I use?
I prefer to work with gold leaves and high quality oil colour, heavy duty canvas and stable frames. This is no snobbism, but very rational. Good colour dries without losing its intended form and does not create ugly spots of oil on the canvas. And as well a frame and canvas of good quality pays back in stability and duration. I studied art restauration and there we learned to love good materials and judge bad ones. en.