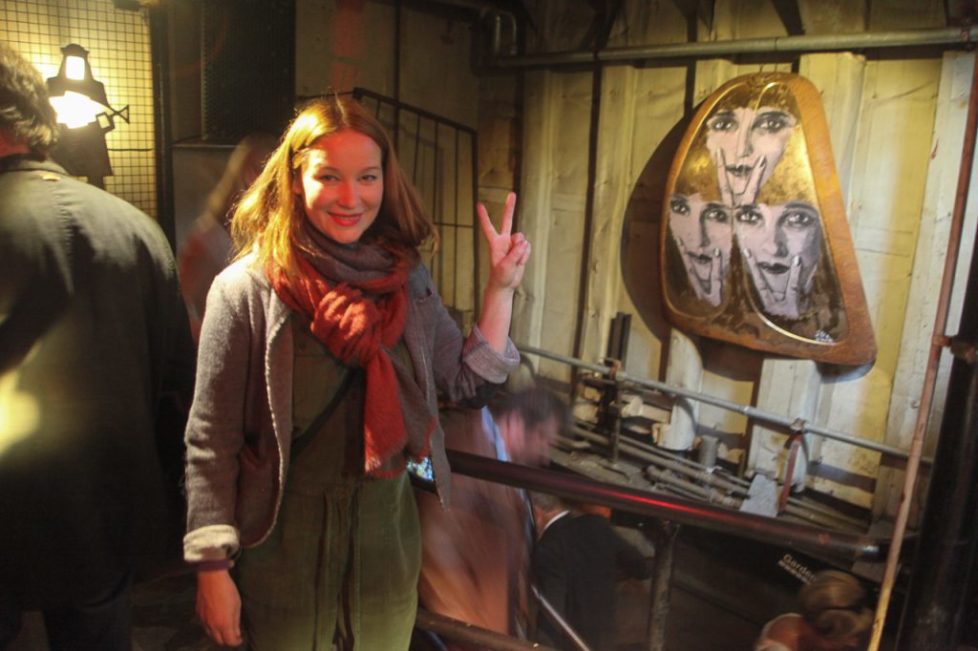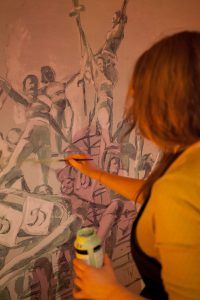 It is a long way, that the Russian artist Lilia Nour left behind her: From the far away city of Kazan, the capital of the Russian republic of Tatarstan – best known from Jules Vernes "Michael Strogoff" and of course of their successful and famous ice hockey and soccer team – she came via St.Petersburg to the German city of Hamburg. There she lives near to the port and the river Elbe in the HafenCity quarter with its strong contrast of new build modern houses and the old warehouse district of the Speicherstadt. Hamburg remembers her of her former hometown St.Petersburg, with hundreds of bridges and water – a lot of water. She loves to watch the inspiring reflections of the water on the brick-lined walls of the historic warehouses and the glass fronts of the big office buildings. Contrasts determines also her work, her wandering between the spheres influences all of her doing. From the islamistic affected culture of Kazan over to the opulent orthodox and prosaic socialistic art of western Russia, inspired by art from India, Vietnam and Japan and now – maybe finally – from the impressive harbour of Hamburg: all of it find its way into her working. She makes no commitment, but always she returns to the core of her work, to fetch focus and refresh. Three big subjects manifesting then: Her big passion are the roaring twenties in Russia, a time of breakup and high ideals, the time the Russian vanguards develops a big and impressive visual language. She is not fascinated by the ideology but by the enthusiasm of artists who are freshly liberated from absolutism. Artist like Wladimir Wladimirowitsch Majakowski and Alexander Michailowitsch Rodtschenko are archetypes of this new time and like Lilia Rodtschenko stays a long time in Kazan.
Her second subject is devoted to Zen: There she can calm down after exciting and hard work. About the resulting pictures she said herself: "My pictures keep silent. They tell no stories, describing nothing, they demand nothing from the beholder. They arise in silence. They are the result of faineance in the sense of Zen." She knows when the spoken is enough for the emptiness – one blossom inside an ocean of gold – that's it.
And of course, Hamburg, her new home, has found an own place inside her heart and subjects: From her studio in the historic Speicherstadt she has an impressive view on harbour, ships and water. It is no surprise that all of this influences her work. But at the end she still stays Lilia Nour: Her impressive technical skills, the chameleonic paint-brush full of elegance and – at the same time – rough vitality, sometimes only hints the detail, sometimes nearly photographic passages meticulously describes every item.
Lilia Nour (born 1972 in Kazan)
Artist, Painter und Art Restorer,
Studied at St. Petersburg Stieglitz-Academy by Isaew, Shuwalow und Shamanow.
She works as restorer at the Eremitage-Museum, St.Petersburg.
Events
2013 – Horses & Dreams – Osnabrück
Curator
2014 – Euregio Musikfestival
2015 – Euregio Musikfestival
Exhibitions
2016 "Deutschland unter die Haube" – Deutsches Verkehsmuseum Dresden
2015 "Deutschland unter die Haube" – Cap San Diego/MS Stubnitz
2014 "Golden Dinner" – Brandshofer Deich
2014 Dauerausstellung Oberhafenkantine
2013 "L´Accrochage" – Fotografie.Malerei.Skulpturen – OnOff Galerie
2012 "Fashion" – Etage 1
2011 "Asia" – Sehkunst
2011 "Live" – TempGallery
2009 "Bauart Jahresausstellung" – Bullerdeich
2009 "Neue Werke für den engen Freundes-Kreis" – Pickhuben
2003 "Countryside" – Ammersbek
2000 St.Pauli Kirche mit Kirill Miller
1997 "Fresh" – Rathaus Wandsbek